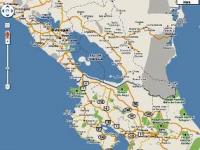 Layanan peta online Google Maps kembali memicu pertikaian batas wilayah antar negara, bahkan kali ini skalanya cukup parah. Negara yang terlibat adalah Nikaragua dan Kosta Rika.
Tidak terima, Kosta Rika yang tidak memiliki militer sendiri langsung komplain pada lembaga regional, Organisation of American States. Mereka menginginkan ada investigasi terhadap kasus pelanggaran wilayah tersebut.
Nikaragua dan Kosta Rika memang telah lama bersengketa soal batas wilayah bersangkutan. Komandan tentara Nikaragaua, Eden Pastora, bersikeras tetap mendudukinya. Mereka merasa sah melakukannya berdasarkan peta Google Maps.
"Lihatlah foto satelit di Google dan Anda akan melihat batas wilayah ini," ujarnya. Namun 'kegembiraan' para tentara karena seolah mendapat dukungan Google sepertinya tidak akan berlangsung lama.
Google telah mengakui dalam blognya, bahwa layanan peta online tersebut telah salah memetakan wilayah sejauh 2,7 km. Mereka berjanji akan segera memperbaikinya berdasarkan peta keluaran Departemen Luar Negeri AS.
"Adalah tujuan kami menyediakan peta yang paling akurat dan up to date. Kami bekerja keras untuk memperbaiki kesalahan segera sesudah kami menemukannya," demikian pernyataan Google.
Namun demikian, konflik ini sepertinya tidak bakal selesai semudah itu. Pemerintah Nikaragua meminta agar peta tersebut tidak diubah oleh Google. Sedangkan presiden Kosta Rika meminta mediasi dari dunia internasional.