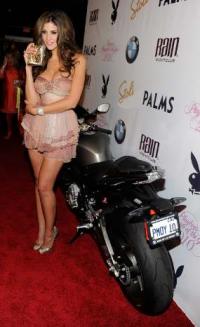 Model majalah dewasa Playboy ternyata tidak hanya bisa tampil seksi bila bersandingan dengan sebuah mobil sport nan mewah. Karena berbekal sebuah motor sport, model itu pun akan bisa tampil panas.
Seperti seorang model Amerika bernama Hope Dworaczyk yang baru saja mendapatkan sebuah BMW S1000RR karena terpilih sebagai Playmate of the Year majalah Playboy.
Dan tidak menunggu waktu lama, model asal Texas yang kini berusia 25 tahun itu pun langsung berpose seksi diatas motor barunya itu.
Hadiah sebuah motor sendiri merupakan yang pertama kalinya di berikan Playboy untuk Playmate of the Year mereka. Karena selama 45 tahun terakhir Playboy biasanya memberi hadiah sebuah mobil.
Namun kami meragukan apakan Hope memiliki Surat Izin Mengemudi (SIM) untuk membawa lari motor ini. Karena bukan apa-apa, BMW S1000RR adalah sebuah motor produksi massal berkapasitas 1.000 cc yang paling powerfull sekarang ini.
Dari mesin ganasnyanya, seperti dikutip Motorcycle, Kamis (27/5/2010) BMW S1000RR masuk dalam kategori superbike ini mampu memuntahkan tenaga hingga 193bhp dengan torsi mencapai 83 lb-ft.