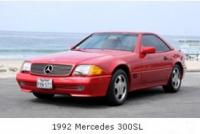 Mobil Mercedes-Benz 300SL milik mendiang mantan model majalah Playboy Anna Nicole Smith rencananya akan segera dilelang pada 26 Juni 2010 nanti di Planet Hollywood Casino Las Vegas.
Mobil bergaya roadster lansiran tahun 1992 tersebut akan dilelang oleh balai lelang Julien's Auction bersama barang-barang milik Anna lain seperti furnitur, tas tangan, foto dan pernik lain miliknya.
Memorabilia milik Anna yang meninggal tahun 2007 lalu tersebut dilelang oleh mantan pasangannya, Larry Birkhead untuk putri mereka yang bernama Dannielynn yang saat ini berusia 3 tahun.
"Kami sangat bersemangat bekerja sama dengan Julien untuk menawarkan barang-barang pribadi milik Anna Nicole kapada fans-nya yang banyak. Hasil lelang akan berguna untuk amal dan putri kami Dannielynn," ungkap Larry seperti detikOto kutip dari situs resmi Julien's Auction, Senin (17/5/2010).
Anna yang pernah terpilih sebagai Playmate of the Year majalah Playboy ini memasuki masa ketenarannya setelah menjadi bintang Playboy dan meninggalkan kehidupan sederhana di kampung halamannya di Texas.
Kehidupan mewah Anna pun makin menjadi ketika dirinya menikah dengan raja minyak Texas, J. Howard Marshall. Mobil Mercedes-Benz 300SL Roadster yang ketika itu berharga US$ 85.000 pun dengan mudah dapat dibelinya.
Namun ketika dilelang nanti, harga mobil tersebut tidaklah akan setinggi itu, sebab Julien mengestimasi mobil berlabur cat warna merah itu hanya akan terjual dengan harga antara US$ 10.000 sampai US$ 15.000 atau sekitar Rp 91 juta sampai
Rp 136,6 jutaan saja.